Entries now open for Artevista 2nd Edition: 'Hunting is not cool'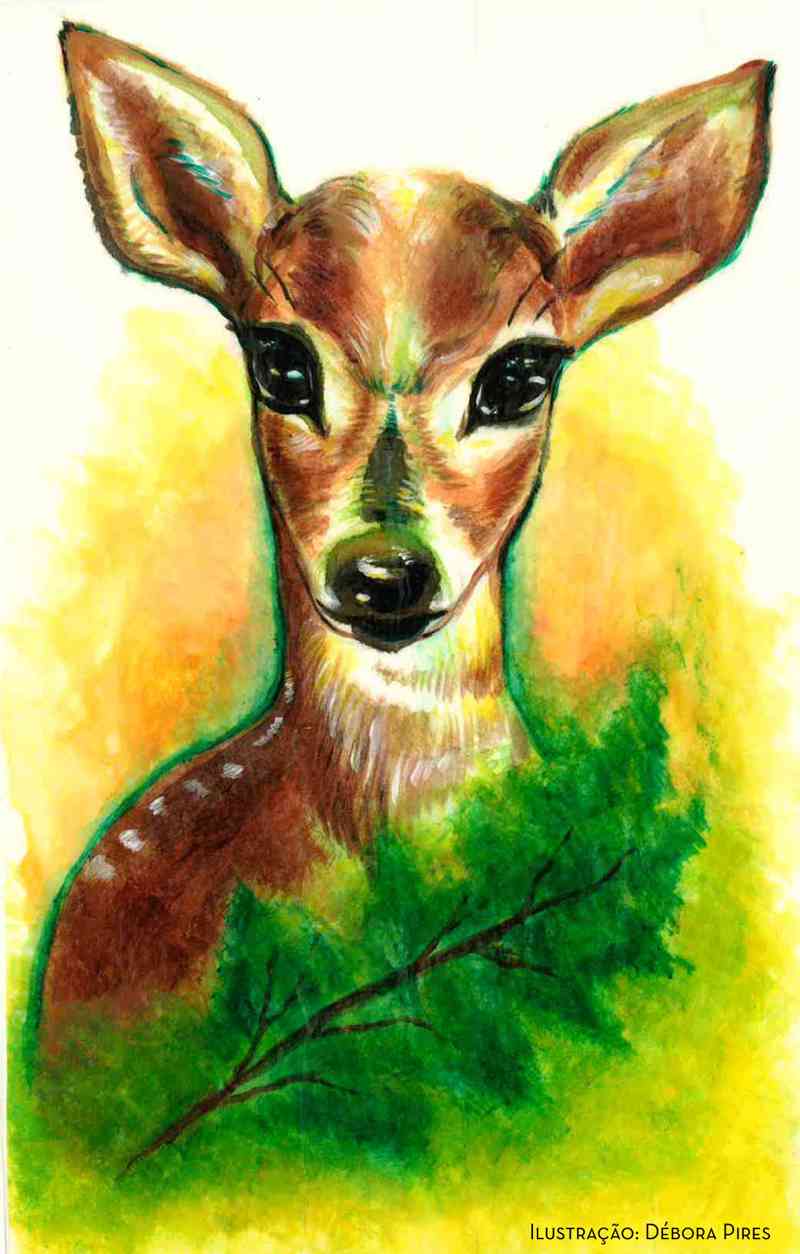 Entries are now open for the 2nd Artevista – Art in defense of animals | Drawing and Painting contest, promoted by Olhar Animal, a non-profit organization, with support from MICA – Movimento Infanto-juvenil Crescendo com Arte. The main goal is to stimulate the respect towards nonhuman animal interests and the action in defense of these beings by inviting kids and teens to express artistically their sensitivity and awareness about this issue.  
PORTUGUÊS | ESPAÑOL | FRANÇAIS
The theme of the second edition is "Hunting is not cool" (in Portuguese, 'Caçar animal não é legal'), to address one of big discussions nowadays in Brazil that concerns situations that harm animals, but it is also a matter that affects the entire planet.
ENTRY RULES
The registration deadline is May 22, 2019. (Brazilian time: UTC-3)
Theme
HUNTING IS NOT COOL
Eligibility
Children and teenagers who reside in Brazil or in any other country, according to the following age groups:
4-7 years old
8-10 years old
11-13 years old
14-16 years old
We invite teachers to promote the contest amongst their students and also invite parents to suggest this activity to their kids.
How to participate?
Entry to the contest is FREE and may be done by the authors, their parents, guardians or by teachers.
Each child or teenager may submit as many entries as he or she wishes. All entries must be the entrant's original, unpublished and previously unproduced work. Entries must be:
Hand drawn on A4 paper (210 mm X 297 mm), with the paper grammage according to the chosen technique. Once finished, the artwork must be scanned in high resolution. Artwork scanned by cell phones, photographic equipment or any other device in low resolution will not be accepted.
OR
Created with the use of digital tools (softwares and equipments) that will allow you to print on A4 paper (210 mm X 297 mm).
Entries must be sent in JPG, JPEG or PNG formats.
If you face any difficulty trying to scan the image, you may get in touch with Olhar Animal for assistance.
You must attach your scanned artwork to an email message and include the following information:
Information about the artist:
Name:
Age:
City:
State/Province:
Country:
How many entries did you submit?
Information about the responsible person/guardian/parent/teacher:
Name:
Relationship: (  ) mother/father/guardian  (  ) teacher
Email address to contact the artist and responsible person/guardian/parent/teacher:
Finally, email the information above and the file to [email protected]. Olhar Animal will send a confirmation email. In case you do not receive the confirmation email, you must get in touch with us by clicking here.
It will not be allowed any form of author identification in the artwork submitted. The author must be identified only in the email sent to Olhar Animal according to the details above.
Entries with more than one author or on behalf of any type of legal entity will not be accepted.
Please note: The Artevista organization has opted to DIGITALLY receive and evaluate the artworks on paper due to the difficulties imposed by the Brazilian Post Office, which is charging fees on artworks coming from abroad that were previously only charged to materials with commercial interests. Nevertheless, we ask authors to please KEEP the original artwork on paper for future use and reference.
Selection
We will select up to 10 (ten) artworks from each one of the age groups and origin (from Brazil / other countries).
A Judging Committee, formed by people invited by the non-profit organization Olhar Animal and by MICA – Movimento Infanto-juvenil Crescendo com Arte, will choose the finalists.
Evaluation Criteria
The drawings and painting will be evaluated according to the following criteria:
adequacy to the proposed theme: "Hunting is not cool";
originality;
esthetic;
any entry which does not meet the specifications set out in the Entry Rules will be disqualified.
It is important to note that the artworks will be categorized by origin (from Brazil / from other countries) and age groups, as previously indicated.
Judging Committee
The group that will evaluate the artworks will be formed by animal rights advocates, artists, educators and by people that the Artevista organizers understand being capable of evaluating the artworks. Up until now, the members of the Judging Committee are:
Adriana Pereira de Souza
Alan Moraes
Alessandra Alexandrini
Alexander José Agbayani Mascardo
Alice Bandini
Alice Werhle Gomide
Andréia Regina Pereira Soares
Antonia Olivares Rodrigues
Armando Bastos
Beth Begonha
Camila Campanhã
Carlos Zanchetta de Oliveira
Carolina Valente
Clarice Paim Arnold
Cleise Ribeiro Faustino
Dana Ellyn
Débora Pires
Débora Rovigatti Benedetti
Elza Ghetti Zerbatto
Fabiana Pino
Fatima ChuEcco
Fátima Gonçalves
Felipe Zanusso
Francisco Athaíde
Iara Proença de Souza
Ivana França de Negri
Jacira Fagundes
Joelle Malta​
Juliana Vasconcelos
Júlio Ottoboni
Laion Castro
Liber Borges
Liège Copstein
Luzia Trabbold
Mara Monteiro
Marcio de Andrade
Marcos Pompeu
Maria Cristina Greco
Maria Ermelinda Silva
Maria José Soares
Maria Nilce Garcia Nicodemos
Mariana de Souza Soriano
Marília Andrade Pinto
Natália Ferreira de Almeida
Natália Prieto
Neide Schulte
Nina Rosa Jacob
Peter Weigel
Reggie Fontes
Renata Mazzutte Pacheco
Renata Zancan
Robert Alexandre dos Santos Alves
Rodrigo Palmieri
Rogério Leão
Rosângela Coelho
Silvia Pompeu
Solange Cristina Gomes
Soraya D. Ferreira
Tânia Morales
Telma Mangini Tapigliani
Terezinha Tavares Bancher
Tyanne Maia
Yves Bonnardel
Other people may be included in the Judging Committee before the beginning of the evaluation phase.
By no means the Judging Committee will have access to participants' personal data before the disclosure of the finalists. The decision of the Judging Committee is indisputable, irrevocable and irreversible. The Judging Committee reserves the right to not select any of the artworks if it considers that the goals of the Artevista were not met.
Finalist Certificate
The authors of the selected artworks will receive the "Finalist Certificate" from the 2nd Artevista. The certificate will be sent by email in a PDF format. If the theme was developed by the teacher together with a group of students, the professor and the institution will receive a "Participation Certificate", without taking into consideration the ranking of the artwork submitted by their students amongst the finalists.
All the drawings and paintings submitted and pre-selected will be displayed on www.olharanimal.org, stressing the 10 finalists from each category (origin from Brazil / from other countries) and sub category (age groups).
Timeline
Submissions: Until May 22, 2019
Finalists announcement: May 31, 2019
Final considerations:
The non-profit organization Olhar Animal has the right to promote and display all participants' artwork submitted for this contest, as well as utilize the artwork to create promotional material for future editions of the Artevista.
The submission, regardless of any other document, means that the participant, representative, responsible or guardian fully accepts the terms of the Entry Rules.
The Entry Rules may be altered without previous notice by any unpredicted reason that may or may not be controlled by Olhar Animal and that compromises the activity in a way that will prevent or substantially modify the conduction of this contest as originally conceived.
Questions not addressed hereby will be evaluated by the organizers, solved using their own criteria, and will not be subject to any type of appeal in regards to their decisions.
Supporter
Organized by
Our thanks
to the illustrator Débora Pires, for creating and donating to us the illustration highlighted in the 2nd. Artevista;
to the teacher Maria José Soares and all MICA members, for the partnership and support;
to Marli Vaz de Lima, Flavia Brakling, Alejandra Mendoza, Agnes I.N., Philippe Sibeaud and Rita de Cassia de Souza-Sibeaud for translations and revisions;
to all members of the Judging Committee.
Os comentários abaixo não expressam a opinião da ONG Olhar Animal e são de responsabilidade exclusiva dos respectivos autores.